Welcome to our Unofficial Patch Notes for Fortnite v8.10! We'll go through most aspects of the game to give you a central overview of things that have been added and that have changed but did not get mentioned in the Official Patch Notes. We'll also exclude leaks that are already well known.
Here's how it works:
This is a collection of things we consider interesting going through the files of this Patch. We compare the files to the previous patch, this means things you see here are new. However, as this is datamining, nothing here is set in stone. We will add speculation and thoughts to some points. These will be written between Round Brackets/Parentheses and in italic (check out this amazing example). Let's begin!
Skins:
All v8.10 Skins can be browsed in our datamining section. There are some hidden gems in this patch. We won't list every skin here, only those that are out of the ordinary and require further explanation:
"SpeedyMidnight" is a filename that has two items attached to it. A pickaxe and an outfit. In case you didn't know, "Speedy" is actually the filename related to the Vertex outfit. If you've been around for a while, we found a yellowish version of Vertex when it released back in July 2018. Investigating even further we noticed, that the green version is just the base name of the skin. The orange version however, the one that exists in the files is labeled "V03". This shows, that a second Variant, possibly our "SpeedyMidnight" still isn't known yet.
The files related to "SpeedyMidnight" are meta infos about a featured image (CID_371) and A material for the Pickaxe.
"EvilSuit" – Sounds cool doesn't it? The file hinting at this Evil dude (yes it's male) is also Metadata for a featured image. The ingame id for this item is "CID_370". We won't find more by just going through the files but we also have our handy list of strings that might show us what this is about. We think, this might be the "Malice" outfit with "Malice Wings" and the description "Simply malicious".
"DevilLace" – This filename comes from a wrap in the files. Keep in mind, that this does not necessarily mean, that it has to be a wrap. "DevilLace" however is neither fitting to a Wrap that was released with this update, nor was it used on any other file. If they use the real name Lace they'd be referring to an already released Skin as seen in the image below: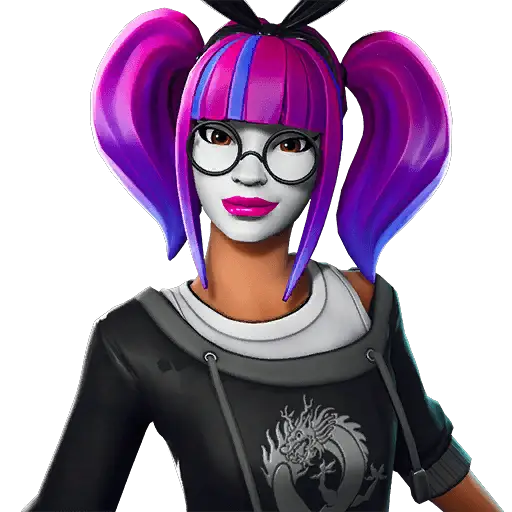 "Glider_ID_TBD_Lion" – That's really it. There's a new glider which still has "To Be Determined" as all of it's infos. Interesting though is, that it is referring to the Disruptor Mesh. A Glider that has been added with this update: https://skin-tracker.com/fortnite/skin?id=1141.
Sets:
These sets are new in the files. Following you'll see the names that the sets will be called when they are released:
"DevilRock" (filename) or "Diabolical"(ingame name) – This set screams to contain the Malice skin. This hints at the Malice skin being in the encrypted Pak files.
Items:
If we find interesting infos about possible introductions of Items, we list them here.
Hop Rocks, Known from Season 4 may make a return. Various files have been added and changed that hint at them being reintroduced. This may be in Creative, for a LTM or similar. We know however, that they're working on something with them.
Hydraulic weapons, known from STW have now started to appear in the Athena files. Mainly audio cues that link to audio files. It's a burst rifle.We're not sure, which exact weapon it will be, STW has various "Hydra" weapons. You can listen to the audio below: https://skin-tracker.com/blog/wp-content/uploads/2019/03/hydra.mp3
Upcoming Block:
Harmony Hotels by TTV Dabbing
Strings:
Everything you can read as plain text in the game is stored in strings. These could be names of skins, description of skins, names of items, item descriptions… We sadly don't know what these string exactly belong to but they can give a good hint at future releases etc. In the list below you'll see all new string excluding the usual leaked skins. We'll add some speculation to the strings as to what they could mean.
AI Eliminations
All Terrain Kart (ATK)
Available with the Battle Pass
Beastmode (Skin description?)
Burning Axe (Pickaxe name)
By Prudiz
Chests only spawn green weapons in this mode.
Classic Battle Royale with a St. Paddy's day twist – all loot from chests is Uncommon (Green)! Only the Buried Treasure item provides rarer loot
Collect Reboot Card
Collect this for fun or profit!
Confirm Retire and Recycle
Cozy Cabin
Darting Through Danger (Skin description?)
Double-Clicking the Ping Button will signal to squadmates that you've spotted an enemy.
Emerald Smasher (Pickaxe name?)
Exhaust the competition. (Skin description?)
Extend
Flare
GRAB THE REBOOT CARD!
Gassed up and ready to roar. (Skin description?)
Goes hand in hand with victory. (Skin description?)
Going Green
Hop Rock
Immortal instrument of fire. ("Burning Axe" description?)
IronCity
Jade Assassin Sarah (STW??)
Last Available Over 100 Days Ago!
Last Available Over 120 Days Ago!
Last Available Over 125 Days Ago!
Last Available Over 150 Days Ago!
Last Available Over 175 Days Ago!
Last Available Over 180 Days Ago!
Last Available Over 200 Days Ago!
Last Available Over 250 Days Ago!
Last Available Over 30 Days Ago!
Last Available Over 300 Days Ago!
Last Available Over 50 Days Ago!
Last Available Over 60 Days Ago!
Last Available Over 70 Days Ago!
Last Available Over 75 Days Ago!
Last Available Over 80 Days Ago!
Last Available Over 90 Days Ago!
Last Available Over a Year Ago!
Lodge
Lucky Rider (Glider Name?)
Malice (EvilSuit Name?)
Malice Wings (Malice Back Bling?)
Mauler
Mean and green.
Misery is her playground. (DevilLace description?)
Mushroom
Quadcrasher
Rainbow Clover
Reboot Squad Members
Ride on and make your own luck. (Glider description?)
Ripening Ritual
Save up your luck.
Simply malicious (Malice description?)
Skull Island
The shiniest treasure is always protected by the most traps.
Three leaf fashion.
Two-Factor Authentication (2FA) is required to compete for cash prizes!
Uncommonly Green
Unlocks at Battle Pass Tier 100
Using the ping button while targeting a weapon will signal squadmates that you've spotted an enemy.
You can use the Ping button to mark locations and items to alert squadmates.
Additional Notes:
The Octopus Vehicle from last time seems to be the same as the Hamster Ball aka The Baller. Very strange naming Epic, very strange.
Removed Files:
All files related to the Uni-Horn Pickaxe (the Rhino one) have been removed. You can still browse it here though. If you think it might be in the encrypted files, sorry to dissapoint you but they have also removed the name string for it. At least in v8.10, it can't be released unless with a different name. This is unlikely though as there isn't any name that could fit.
That's it for now. Let us know if you like this format, shoot us a tweet and follow us @SkinTrackerCom. We also just started our new Discord Server you can join to get even more Skin-Tracker news and give us Bug Reports. We're still only beggining with these posts and hope you can already enjoy them in this state. This post might get updated with some new informations or things we misinterpreted, let us know if we made any mistakes.