We're in the hot phase preparing to get our new Skin-Tracker App ready and running for a release in the Google Play Store. Read all infos before release to find out what is waiting for you.
First things first:
Yes, we're releasing an app and we think you'll enjoy it. You can expect features we have available on the website and some exclusive, App specific extras. Everybody will be able to download the App for free. While the free version will be powered by ads (in reasonable amounts) we will also have a pro version to purchase in-App that will let you remove ads and unlock an extra feature or two. More about that later.
Features:
Check out the list of features available for everybody at launch:
Browse all currently available and leaked Fortnite skins.
Preview 3D models of countless Outfits, Gliders, Pickaxes…
Quick overview of the Current Item Shop skins.
Test Pickaxe, Glider and Emote sounds.
Read the current ingame Newsfeed.
Quick access to our latest Blog Posts, including Unofficial Patch Notes etc.
A constantly updated Database of skins ensures the App is always up-to-date.
Detailed Informations about how to get skins, their last shop appearance and current Battle Pass progress.
More soon…
Edit: We're delaying the Pro Version until we're confident with it's features and quality. Sorry about that. 
Here's the current list of Features exclusive to the Pro Version:
Greatly support Skin-Trackers past, current and future work on both the Website and the App.
Be able to activate Push Notifications if skins on your wishlist become available.
More soon…
This App, just like the Website will stay in active development even after launch. We'll provide you with regular fixes, feature additions and improvements. Our goal is to let everybody have a good time using our services. This means that the main features and database will always be free to use while being powered by a reasonable amount of advertising. The Pro version will grant you certain benefits while supporting our work in the long run.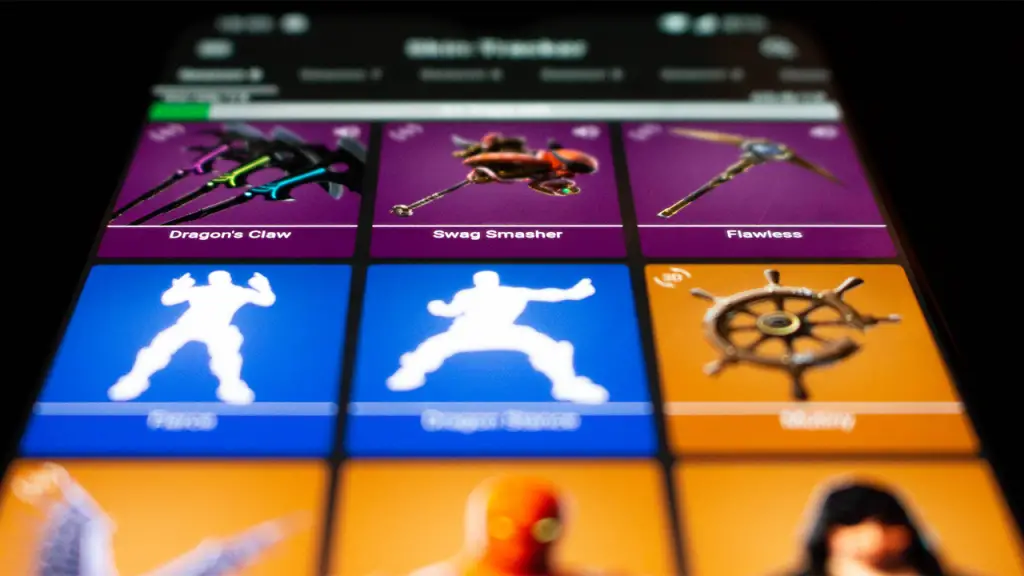 Frequently Asked Questions:
Will there be a iOS version and when will it be available?

Yes, we're working on making this App available on iOS aswell. We can say it will be available very soon but software development takes time and we can always run across unforeseen issues. We'll let you know more once we're closer to it's release.

What will the Pro version cost?

For now we're planning to make the Pro version a one-time purchase of no more than 1$. This may change in the future once we have more features added but you'll get a prior notice. We will also always hear your feedback regarding this.

When will PUBG be added?

PUBG is an important part of Skin-Tracker. It's taking a bit longer to implement it to the App, as we have to redesign it's database before we can add it with all it's features. PUBGs Skin system is a lot more complex than others like Fortnite. We hope to be able to release it in the coming weeks but we can't promise you a date.

Will there be seperate apps for different games or the Free and Pro version?

No. You will get access to all games and features in this one App. Unlocking the Pro features is not limited to one game or part of the app.
What's Next?
We're currently hard at work to get the first version ready for public release on the Play Store. There's not an exact day to tell you just now as we might need a unexpected day more or two to fix unforeseen issues. We're confident however that the App will come this month!
Here are two screenshots to give you a little taste: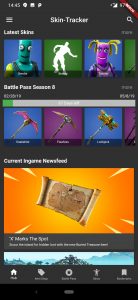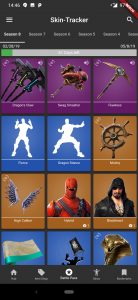 Join our Discord Server to get in touch and talk about the app and follow us on Twitter to stay updated. We'll share more infos once they're ready to be shared. Don't forget, that we have a lot of cool things to browse on the Main Website aswell.