After we announced back in April, that there will be a bit of time before new website and App updates become available, we're slowly increasing our pace again. Read what you can expect from this new Skin-Tracker Website Update
Yesterday, we've invited 500 of you to testflight our new free iOS app. Feedback so far has been great and we're hard at work to get the App ready for a full release soon. The iOS version of our App, however, is just one of many exciting things we've been and are still working on. Today's website update includes a lot of small tweaks and some cool new features aswell as visual improvements. Most important though, it's changing a lot in the backend to make it easier for us to work faster and get the really exciting stuff done in the future.
This will start off as fortnite only but most of the things here are being worked on for PUBG aswell. Before we update all PUBG things though, we need to get back on track with our database and get some more stuff done. You'll read more infos about that soon.
While we update everything, why don't take a look at some of the new stuff?
Skin-Tracker Website Patch Notes:
Skin Page improvements:

Improved spacing for better overview. Elements are centered more and not spread out anymore.
The "tab" like buttons to switch between 3D mode, Ingame Menu Showcase etc. are now evenly spread above the Media View.
These buttons are now working better on mobile as they will reduce in width instead of being listed above one another.
You can now click on the slot (Outfit, Pickaxe, Emote…) to go to the list of all skins in that slot.
The Featured image of a skin is now also visible on Desktop devices and reacts responsive to display sizes.
Improved the Audio Player both visually and in functionality:

Audio Progress gets visualized better
Volume Slider is always visible
Change the playback speed with settings like x0.75, x1.25 etc.

If you're on a Outfit skin you can now click on it's character name to see a list of all skins with this character (previously very limited to a few characters)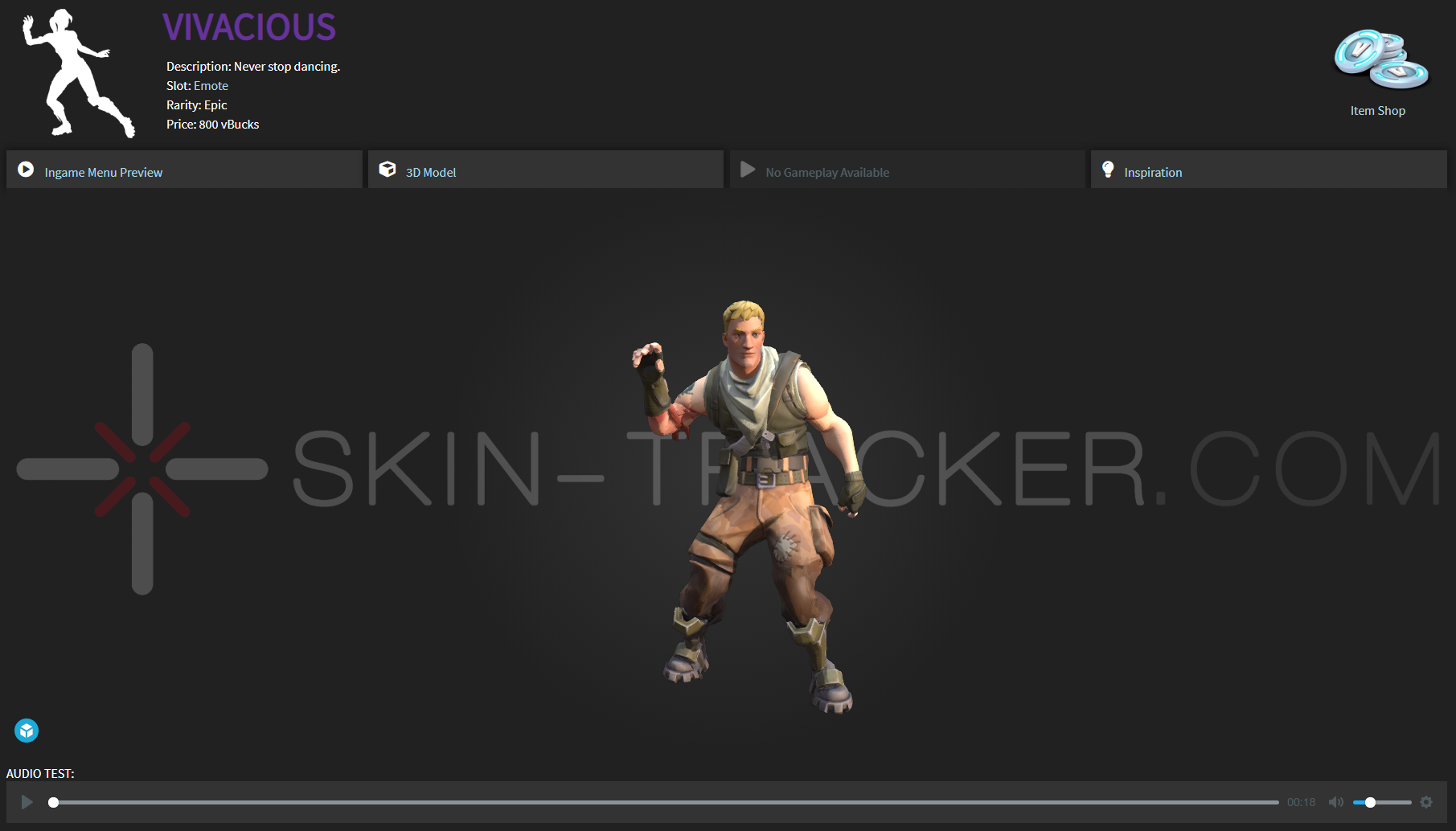 Added new filtering option that lets you list all skins from a certain category (slot).
The Headline now shows what you have selected i.e.: "All Rare Emotes".
The Rarity and the Slot filtering options show you how many skins are available for a certain selection. These selections affect each other so if you have selected "Rare" as rarity, the dropdown for Slot shows how many Rare skins in a certain slot are available. This goes both ways. To reset, simply select "All" again.
Sorting by rarity now correctly goes from Legendary to Uncommon instead of only grouping the rarities in random order.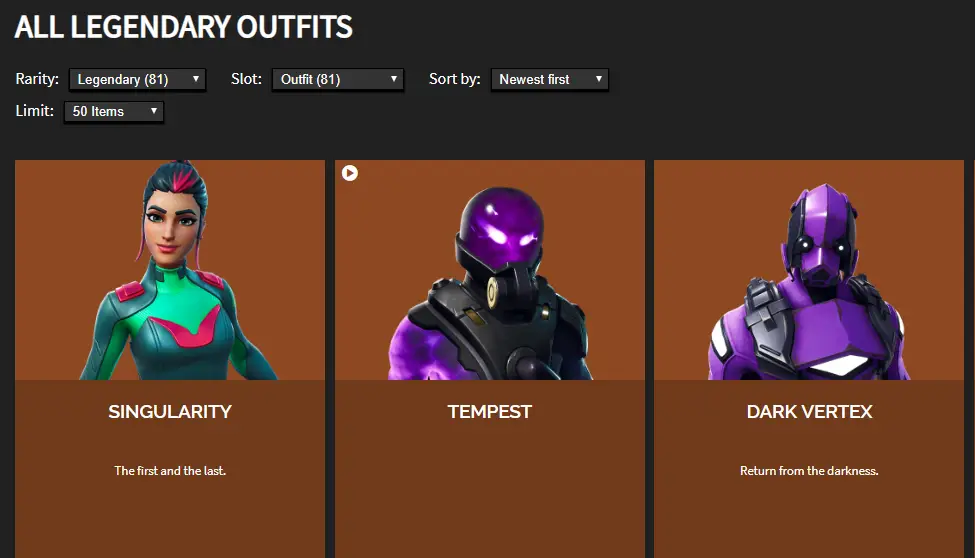 Outfits Page:

All characters ingame can now be selected (currently 22)
New characters will be available to select the moment they're released.
Similar to Slot and Rarity selections, the Character Dropdown now shows how many skins are available in this selection.
The Headline now shows your selection i.e.: "All Legendary Ramirez Outfits"

General Improvements:

Fixed inconsistency with Skin Cards. They will now show all icons, like 3D model available or ingame showcase available, independend of on what page they are on.
Changed Url structure to be easier to read. Instead of showing the Skin id, it now has a better syntax. Previous Syntax: https://skin-tracker.com/fortnite/skin?id=1623, New Syntax: https://skin-tracker.com/fortnite/outfit/mecha-team-leader
Legacy links using the old syntax will continue to work.
Fixed missing Marvel rarity background color in All Sets Page.
Sets are now sorted by last added instead of Alphabetically. This is work in progress, some may be incorrect.
The All Item Shop Skins Page now has the same filtering options as the All Skins page.
Fixed broken footer icons and removed facebook (eww).