Christmas is around the corner and with the latest update 23.1, PUBG gifts 2 Free Christmas Skins for PC Players.If you Log-in between now and December 26th 2018 you'll receive a temporary reward. This reward consists of the "Red Nose" Skin and the "Festive Beanie With Pom Pom". Both items are Red and colorful, perfect to stand out against the snow of the upcoming map Vikendi.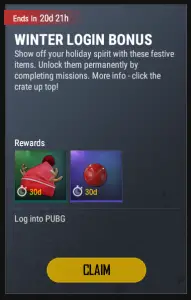 In case you want to keep them permanently you will have to complete a relatively simple mission:
Reach Top 10 ten times in public matches (Solo/Duo/Squad, any map)
To track progress on your mission or to claim your skins simply click on the little Crate icon in the upper right corner of the main menu.
3D models are available for both skins. Check out the Festive Beanie With Pom Pom and the Red Nose in greater detail, even though the Red Nose Skin is quite simplistic. If you want to test out outfit combinations with both of these skins you can use our Wardrobe.
Playstation 4 Players also receive exclusive skins, i.e. the exclusive preorder skins only available if you preorder the game before it's release in two days. We'll do another Blog post tomorrow with another PS4 exclusive skin coming for our new PUBG players. We will also cover all Game Awards News aswell as the New "Survival Pass: Vikendi" which content has yet to be determined. Stay tuned for more infos!
Src: PUBG Live Client and Steam Announcement